The remote work movement is really catching fire. So many companies, big and small, are allowing their team to work from wherever they are most productive. With this shift, some big hotspots have emerged around the world.
Interested in where some of the remote workers are hanging out? We've compiled a handy list for you.
Chiang Mai, Thailand
To many, Chiang Mai is the go-to remote work destination. In the last couple of years this Northern Thai city has exploded and cemented itself on the digital nomad map. With excellent WiFi, multiple co-working spaces, strong café culture and cheap cost of living, the only thing it's lacking is a beach. But you can be on a tropical Thai island in an hour by plane!
Berlin, Germany
A recent wave has seen multiple startups move their operations to Berlin. The German capital is renowned for it's forward thinking mindset and carefree attitude. This has manifested itself in the rise of some great co-working spaces in the city and a thriving startup scene. The cost of living is low when compared to other European capitals too. As far as European remote work hotspots go, this city has to be up there.
Canggu, Bali
Sun, surf and co-working. Those are just three of the things going for Canggu. Located on the Southern coast of Bali, this hotspot is a haven for those who want to work from the beach. Most who come here end up living in one of the many Balinese villas that dot the coast. Dojo Bali is the most notable co-working space in the area. It is not only 100 meters from the beach but it has it's own swimming pool too! Perfect for a refreshing dip in between conference calls.
Ubud, Bali
A totally different Bali experience to Canggu, but with many other benefits. Amongst the rice padi's of central Bali, Ubud was popularized by the 'Eat, Pray, Love' novel back in 2006. Since then has taken off as a as a hotspot for health and spirituality. Additionally, in recent years it has become a digital nomad hotspot too. With multiple co-working spaces popping up in the area, many remote workers just can't bring themselves to leave this idyllic escape.
Medellin, Colombia
Formerly the stronghold of infamous drug kingpin Pablo Escobar, things have definitely changed in this Colombian city. With a cool new coffee hangout popping up on a weekly basis, Medellin is on the rise. If are looking to brush up on your Spanish while working remote there are few better places to do it than South America!
Ho Chi Minh City, Vietnam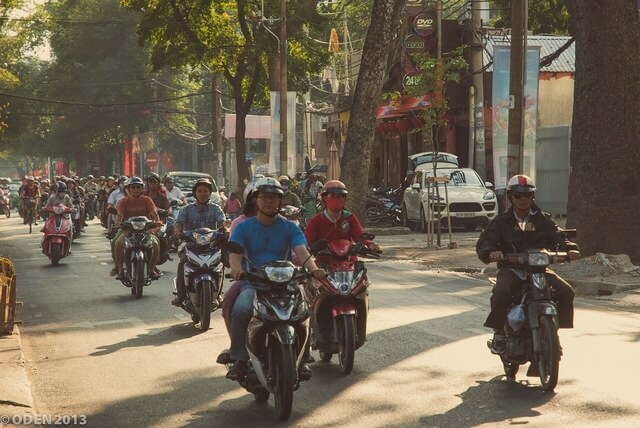 For those who like some hustle and bustle, Ho Chi Minh City (also known as Saigon) is worth a look. Located in the South of Vietnam this city honestly never sleeps. It has a thriving community of remote workers and entrepreneurs too! In fact, Dreamplex, one of the cities most prominent co-working spaces, was visited by none of other than Barack Obama last year. If it's got a presidential seal of approval, it's definitely worth checking out!
Lisbon, Portugal
Portugal's capital is slowly becoming one of the go-to cities for digital nomads. Cobbled streets and a distinct Iberian charm are just the icing on the cake. The city is slowly adapting to the influx of remote workers with several co-working spaces appearing. The AirBnb map is looking considerably busier when compared to a year ago. This is a great alternative is you want to be in Europe without taking the hit of European living costs!
Where will you be visiting first?